Vol. 19 No. 1 (2020): Outlining Similarities and Differences in Civics Education in Europe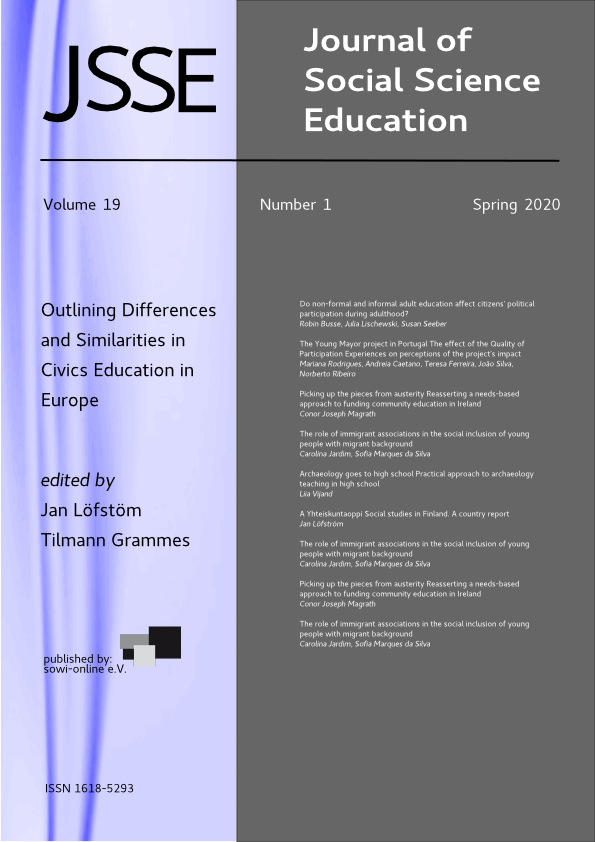 Editors of this Issue
Jan Löfström, University of Turku, Finland
Tilman Grammes, University of Hamburg, Germany                                                                                                                                                                      
This issue of JSSE contains detailed reports about the current situation of social science or social studies in the following countries (listed from East to West): Russia, Hungary, Poland, Norway, Denmark, Germany, France and Spain.
In the editorial, Jan Löfström (Turku, Finland) and Tilman Grammes (Hamburg, Germany) highlight significant similarities and differences among the countries in the organisation and objectives of teaching and learning in the subject(s) related to social sciences. The diversity of curricular solutions and national traditions is considerable, yet there is also a lot that is shared and common between the countries. In conclusion, the idea of a European association of social science education is raised.
As usual, all country reports have passed a strict double blind peer review, and co-experts from domestic and abroad have checked factual correctness as well as comprehensibility for foreign readers. The country reports aim to facilitate researchers' access to colleagues, journals, professional associations and current educational polices in the respective countries. They want to inspire further comparative research and cooperation.
JSSE constantly welcomes country reports, especially from countries that are still white spots in JSSE publication list, like Belgium, Czech Republic, Belarus, Romania, Bulgaria, Moldavia, or Ukraine. Updates of older reports due to current developments in educational policies are welcome as well.