Current Issue
Vol. 19 No. 3 (2020): Open topics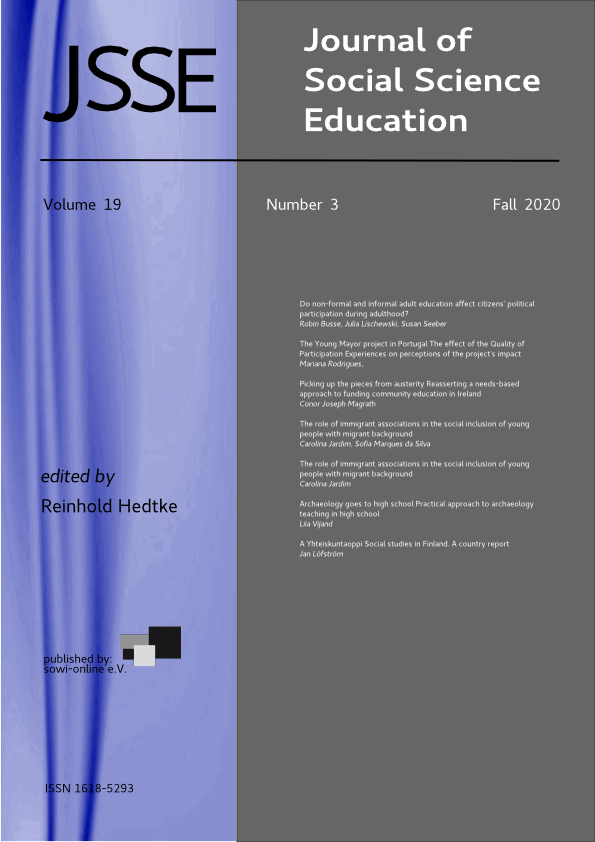 Editor of this Issue
Reinhold Hedtke, Bielefeld University, Germany
The current issue presents papers on economic education and financial literacy, the concept of a post-dogmatic higher education, teaching practice of establishing a democracy on different theoretical framings, training of students in complex content related argumentation, Human Rights Education as creating children's own space for autonomy and agency and a narrative approach to explain the continuity of antisemitism. By publishing open topic issues once a year, the JSSE welcomes papers on a greater variety of objects of research and of current problems of social science education beyond a frame of questions and content predefined by a thematic call for papers.
View All Issues
Current News         
New Issue:
We are very happy to inform you about our new issue of the 
Journal of Social Science Education
 (JSSE):
JSSE 2020-3: Open topics
It is an open topic issue with a variety of interesting perspectives on civic, citizenship, economic and social education.