Russia:
Social science education in Russia: between civic responsibility and the reality of life
Abstract
Purpose: The purpose of this report is to show how the problems of teaching social science in Russia are related to the problems of reconciling the goals of social science with the practice of real teaching this subject in a modern Russian school.
Design/Methodology/Approach: The report was prepared on the basis of the comparative analysis of the basic documents of the Ministry of Education of the Russian Federation that define the goals and objectives of teaching social studies, two basic lines of social science textbooks, exam materials, as well as secondary sources presented.
Findings: Modern social science in the Russian school continues to be a theoretical discipline, extremely weakly connected with practical skills. The federal educational standard continues to be a fairly abstract document. The two popular series of social science textbooks are not focused on the formation of a real civic position of the student and his involvement in the practice of social life. Their goal is to teach a terminological apparatus to the student, part of which reproduces the language of the Soviet era. The main goal of the Unified State Exam in social science is to test the level of theoretical knowledge that is loosely related to the goals of school civic education and real life in Russia.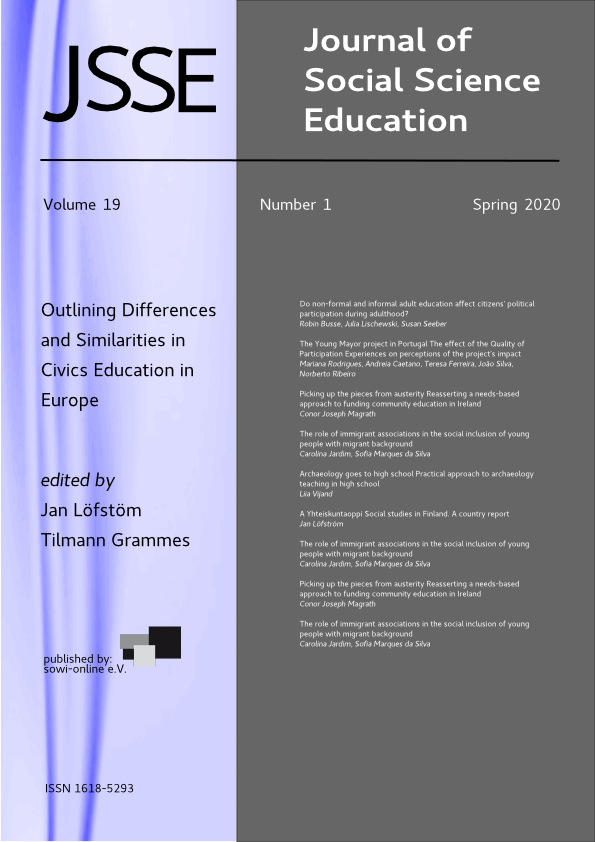 Downloads
License
Copyright (c) 2019 JSSE - Journal of Social Science Education
This work is licensed under a Creative Commons Attribution-ShareAlike 4.0 International License.