Real-World Engagement with Controversial Issues in History and Social Studies: Teaching for Transformative Experiences and Conceptual Change
Abstract
Controversial issues have been established within the larger framework of civic education as an effective pedagogical approach to developing critical thinking in the classroom, preparing students with intellectual habits necessary for participation in scholarship, civic life and democracy. In this study, we found that a pedagogical intervention, Teaching for Transformative Experience in History, in some cases led to significantly higher engagement with political concepts beyond the classroom, and in other cases, the intervention led to significantly improved conceptual change. The study addresses some of the challenges presented by the research on civic education, providing a potential framework for developing pedagogical practice in history and social studies education that grounds a participatory, meaning-making process in curriculum design and assessment framed by controversial issues.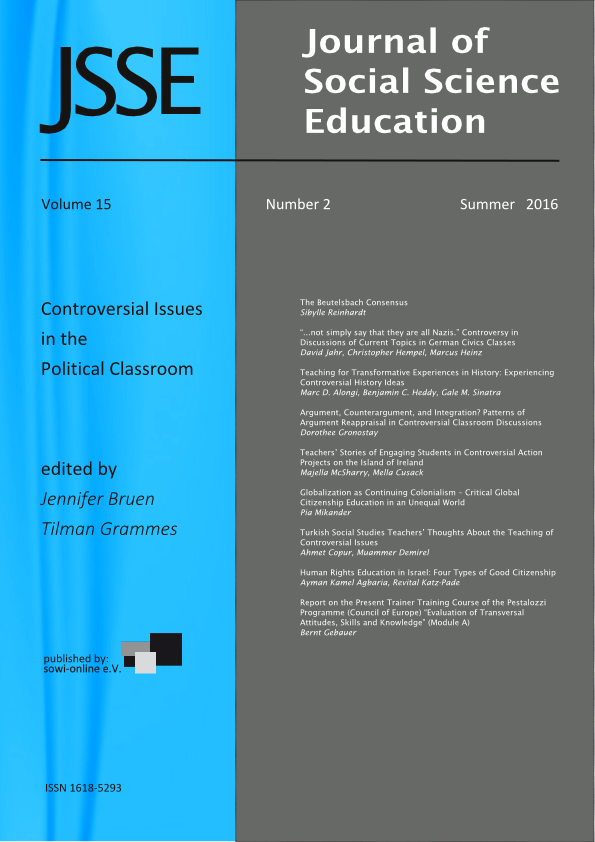 Downloads
License
Copyright (c) 2016 JSSE - Journal of Social Science Education
This work is licensed under a Creative Commons Attribution-ShareAlike 4.0 International License.