Current Issue
Vol. 22 (2023): Advance Access Articles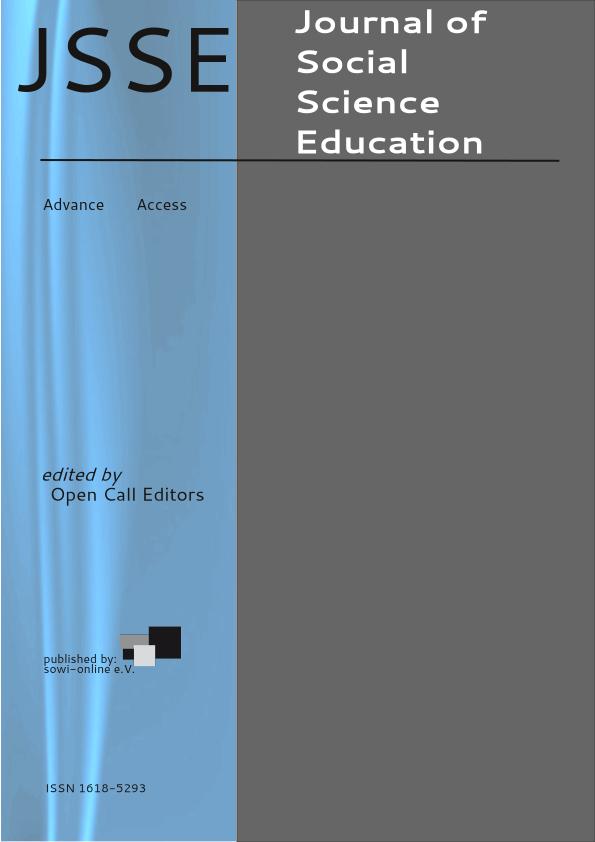 Articles are published as Advance Access when they have successfully passed the review process and a final version is available. This is initially placed in the Advance Access Articles issue of the current volume and will later appear in a regular JSSE issue.
View All Issues
Current News
New Issue:
We are very happy to inform you about our new issue of the Journal of Social Science Education (JSSE): 
JSSE 2-2023 edited by Jan Löfström, David Rosenlund and Birgit Weber.

Calls for Papers

Advance Access Articles

Open and Permanent Call for Papers

The editorial team of the Journal of Social Science Education kindly invites authors to submit papers. The JSSE is an international peer-reviewed scientific journal for research on teaching and learning in the broad field of social science education.




Country Reports 

Focus and Scope

Country reports aim to facilitate researchers' access to colleagues, journals, professional associations and current educational polices in the respective countries.

 
 
 
 
 
 
 

JSSE is indexed in

JSSE is listed as A Level Journal at:

Our sponsors are: