Discourses of Inclusion and Exclusion in the Commemoration of the 40th Anniversary of the Portuguese Revolution
Abstract
This article takes a discourse analytical approach to elements of the 40th commemoration of the Portuguese Revolution, focusing specifically on the absence of themes and participants by groups who were most directly involved in the Revolution, either as actors (the "Captains of Abril"), the retornados (Portuguese nationals "returning" to Portugal in the aftermath of the 1974 coup) and retornados-emigrantes (those who left Africa during this period but went on to live outside Portugal).   The analyses center primarily on the speech by Portuguese President Cavaco Silva, given as the official opening of the 40th anniversary of the military coup of 25 April 1974, which brought the authoritarian regime of 48 years to an end.  This examination, combined with other speeches of Cavaco Silva, newspaper reports, analyses of the integration of retornados, and a commemorative TV miniseries on the Revolution, provide the evidence for the argument that important voices of the Revolution were muted or silenced in the official commemoration of 2014. Finally, the relevance of actor-centered perspectives on commemoration is laid out for educators.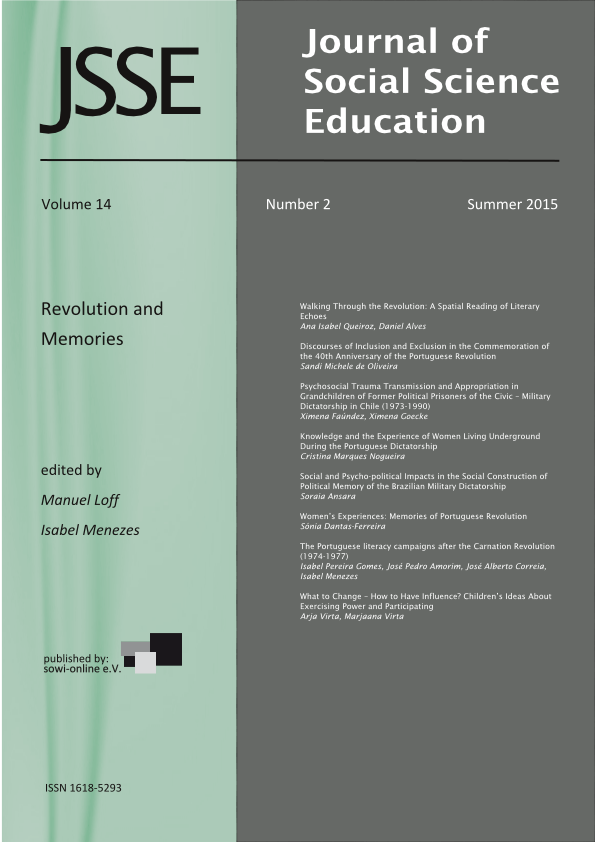 Downloads
Additional Files
Metrics
Views/Downloads
Abstract

268

PDF

243

(revised text) Discourses of inclusion and exclusion...

403
Further information
License
Copyright (c) 2015 JSSE - Journal of Social Science Education
This work is licensed under a Creative Commons Attribution-ShareAlike 4.0 International License.