Education beyond safety
Facilitating educational meetings between refugee and non-refugee youth
Keywords:
Global citizenship education, refugee education, Decoloniality, Professional ethics
Abstract
Purpose: The article unpacks potentials of and resistance towards facilitating meetings between refugee and non-refugee youth in global citizenship education.
Design/methodology/approach: The analyses are based on participant observation in a school-based intervention in three locations, developed on the principles of design-based research [DBR].
Findings: The article exposes both how meetings between students could be deeply educational and how teachers prevent meaningful interaction between students out of concern for refugee students.
Research limitations/implications: More research is needed on how students care for themselves and others in transformational learning contexts.
Practical implications: Privileged teachers' concern for retraumatising students can veil unconscious protection of the privileged self against students' trauma and should therefore be subject to critical reflection.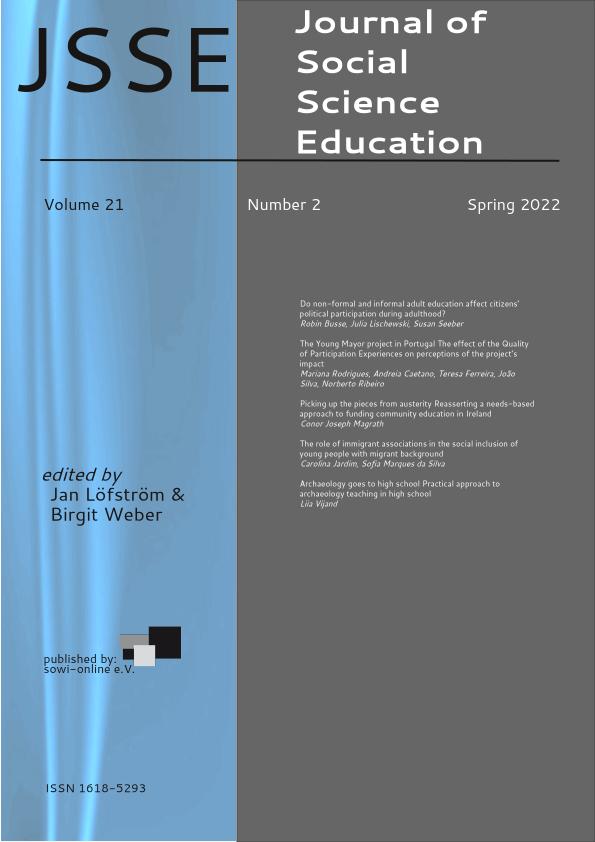 Downloads
License
Copyright (c) 2022 JSSE - Journal of Social Science Education
This work is licensed under a Creative Commons Attribution-ShareAlike 4.0 International License.