Structuring Arguments in Civic Education - An Explorative Mixed- Methods Study
Keywords:
argumentation, civic education, discursive moves, complexity levels, role-play
Abstract
Purpose: The aim of this article is to show the underlying structure of developed argumentations in five role-plays recorded in civic education in a vocational school.
Method: Two models were developed to analyse discursive moves and to analyse complexity levels within students' arguments.
Findings: The models show the quality of argumentations in terms of structure from the two different perspectives of discursive moves and of complexity levels. An association between discursive moves and complexity levels may be assumed.The ability of elaborating arguments and connecting them in more complex ways could not be significantly developed in this setting.
Research implications: The results illustrate the performance of the whole class. Further comparative analyses and the analysis of individual learners are needed to draw even more conclusions.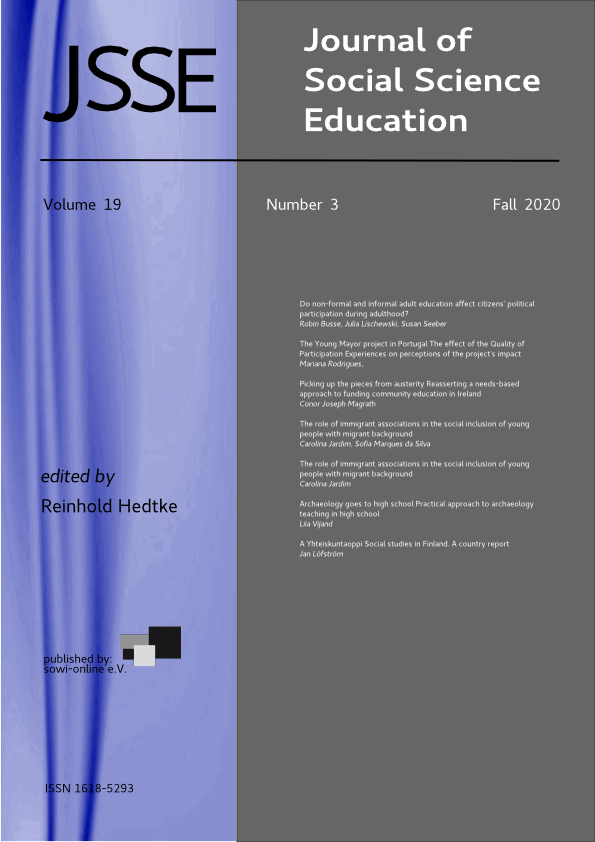 Downloads
License
Copyright (c) 2020 JSSE - Journal of Social Science Education
This work is licensed under a Creative Commons Attribution-ShareAlike 4.0 International License.