Walter Benjamin and William Corsaro's Contributions to a Human Rights Education Approach with Children
Keywords:
Childhood Studies, Human Rights Education, Critical Theory
Abstract
Purpose: This paper aims to discuss Walter Benjamin's Critical Theory and William Corsaro's Sociology of Childhood contributions to a Human Rights Education approach with children. Our intent is to investigate how children's personal experiences can enrich the construction of a differentiated pedagogical model, based on the promotion of attitudes and values infused in the human rights tradition.
Approach: We address this paper to a reflection on the expressions of agency, social engagement, and cultural productions in the course of childhood.
Findings: Our thesis is that Human Rights Education has to recognize the different ethical lives, or subcultures, that compose each educational environment, assuring children's autonomy and social protagonism in the process of identifying human rights violations and organizing strategies to assure social justice.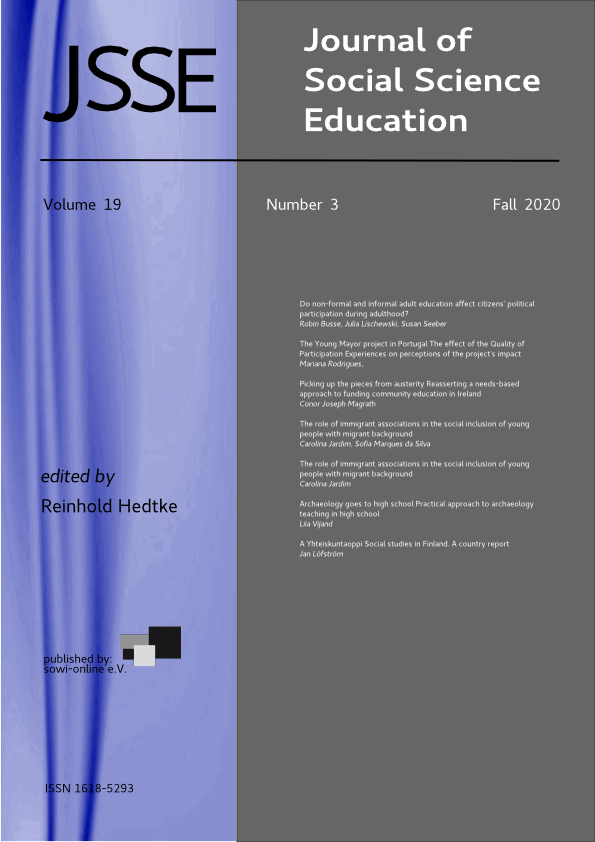 Downloads
License
Copyright (c) 2020 JSSE - Journal of Social Science Education
This work is licensed under a Creative Commons Attribution-ShareAlike 4.0 International License.