Preparing to Teach Democracy: Student Teachers' Perceptions of the 'Democracy Cake' as a Set of Teaching Materials in Social Science Education
Keywords:
Social studies, teacher education, didactics, democracy, teaching materials
Abstract
Purpose: Few studies have examined student teachers' perceptions of teaching materials on democracy. For the purpose of addressing how teacher education in social science might contribute to student teachers' qualifications for teaching democracy, this study investigated student teachers' perceptions of the 'Democracy Cake' as a set of teaching materials for teaching democracy in social science education.
Design/methodology/approach: This study relied on a survey and observations among 47 student teachers in a social science didactics course.
Findings: Analyses of student teachers' perceptions revealed concerns about teaching social science concepts, engagement of secondary school students in classroom discussions and the theoretical framing of the teaching materials.
Research limitations: The study focused on 47 student teachers' perceptions of a particular set of teaching materials and may not be generalisable.
Practical implications: This study indicates that social science teacher education might benefit from involving student teachers in the examination of teaching materials.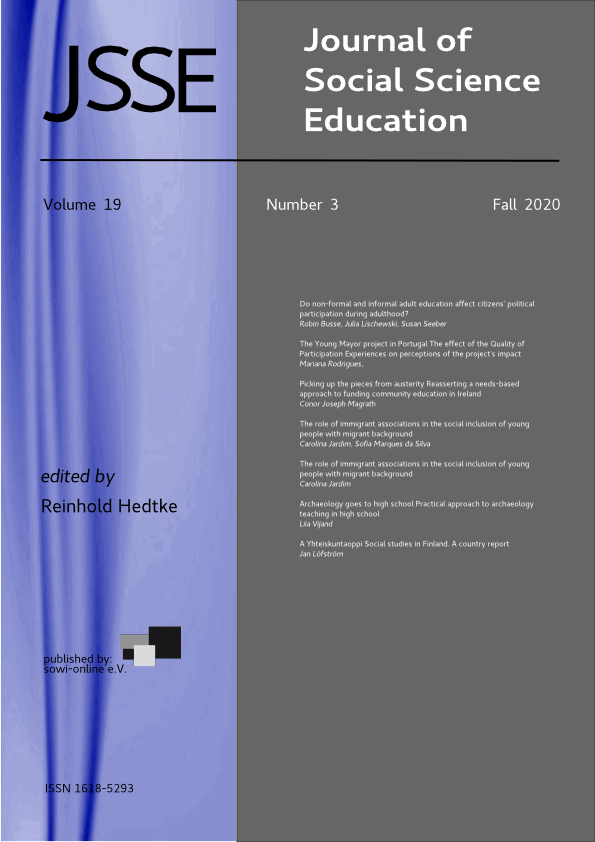 Downloads
License
Copyright (c) 2020 JSSE - Journal of Social Science Education
This work is licensed under a Creative Commons Attribution-ShareAlike 4.0 International License.