"With tears upon our eyes?": Commemorations of Victory Day in the Great Patriotic War in the School Practice in the Soviet Union and Russia
Abstract
Purpose: This article is devoted to the description and comparative analysis of the commemorations of Victory Day in the Great Patriotic War in the practice of Soviet and Russian school education, based on the example of the two regions of Central Russia (Tambov and Lipetsk region). The purpose of the article is to study the features of the transformation of the content and forms of organization of festive events and rituals of the holiday at the level of the school system.
Design/Methodology/Approach: The article was prepared on the basis of a wide range of the sources: educational and methodological materials, materials of social networks and school websites, legislative acts and normative documents of school institutions connected with patriotic education, and also qualitative observations of the authors with the support of several visual materials.
Findings: The analysis has shown that the activation of the patriotic rhetoric in modern Russia has transformed Victory Day into a central element of the official politics of memory, one of the most important resources of which is the system of school education and upbringing. At the same time, while preserving most of the external attributes and Soviet symbols of the holiday, the commemorative practices and rituals of celebrating Victory Day in the Russian school differ significantly from the Soviet era. This is due both to demographic and political causes, and to the growing influence of local practices of family memory. The performativity, temporal inversion, repressive nature of some events are typical of some commemorations of Victory Day in modern Russian school.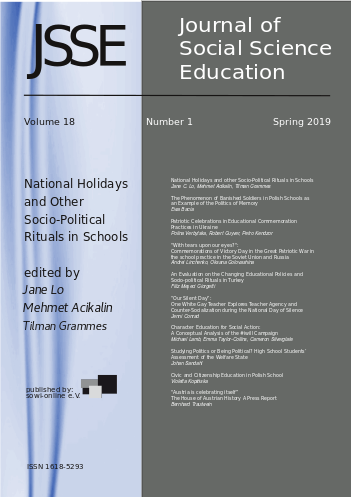 Copyright (c) 2019 JSSE - Journal of Social Science Education
This work is licensed under a Creative Commons Attribution-ShareAlike 4.0 International License.