"I mean, everybody is kinda racist." PowerPoint Presentations in Social-Studies Classrooms in Germany
Abstract
Purpose: PowerPoint presentations have changed representations of knowledge. They represent a social transformation process of communication which is also reflected in social-studies classrooms. Thus, it is important to examine not only how students hold presentations but also to explore the construction of knowledge through presentations: What are the didactic functions?
Methodology: The article focuses on a case study that was part of a doctoral dissertation that uses audio recordings, interviews and classroom observations in order to explore presentations in social-studies classrooms.
Findings: A presentation – the shooting of Michael Brown – by 10 th -grade student Laura shows: Students select and transform knowledge in a socio-constructivist and didactic way. Presentations are the starting point of a process of negotiation of knowledge, which is triggered by the presenting students. Laura asks within the lesson: What is racism and what can we learn about racial structures? By reading the article teachers can learn about teaching students about race and racism through presentations.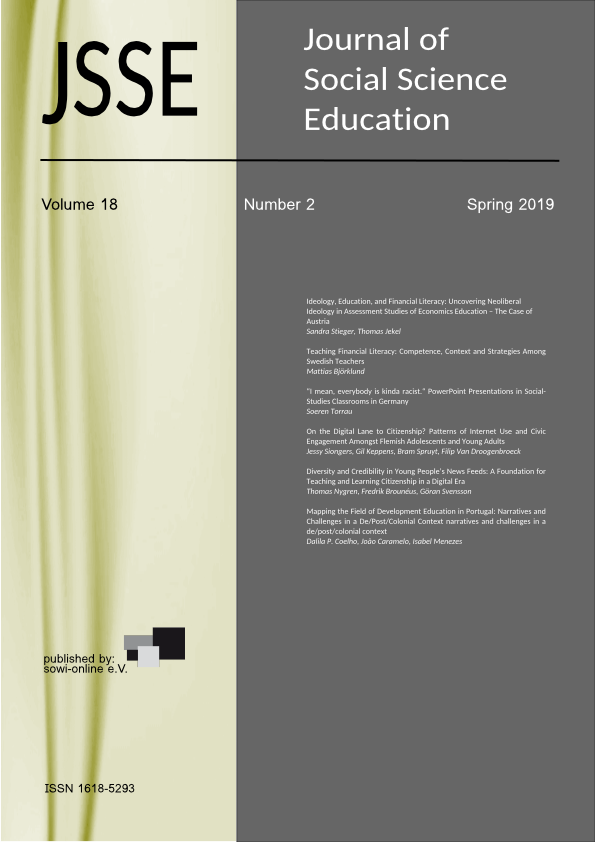 Downloads
How to Cite
Torrau, S. (2019). "I mean, everybody is kinda racist." PowerPoint Presentations in Social-Studies Classrooms in Germany. JSSE - Journal of Social Science Education, 18(2). https://doi.org/10.4119/jsse-910
License
Copyright (c) 2019 JSSE - Journal of Social Science Education
This work is licensed under a Creative Commons Attribution-ShareAlike 4.0 International License.