Changing Attitudes, Changing Behaviors. Conceptual Change as a Model for Teaching Freedom of Religion or Belief
Mary Anne Rea Ramirez

Hardwired, Inc.

Tina Marie Ramirez

Hardwired, Inc.
Abstract
Purpose: The purpose is to demonstrate that conceptual change theory and strategies can be applied to areas of the social science, such as human rights education on FORB.
Design/methodology/approach: The theoretical scope of this paper is conceptual change theory and is intended to introduce the theory and practice of conceptual change in teaching about FORB in social sciences and how it was used in training teachers.
Findings: Conceptual change theory and strategies were found to be effective in teaching about FORB.
Practical implications:
This study introduces the use of conceptual change theory and strategies in teaching about human rights.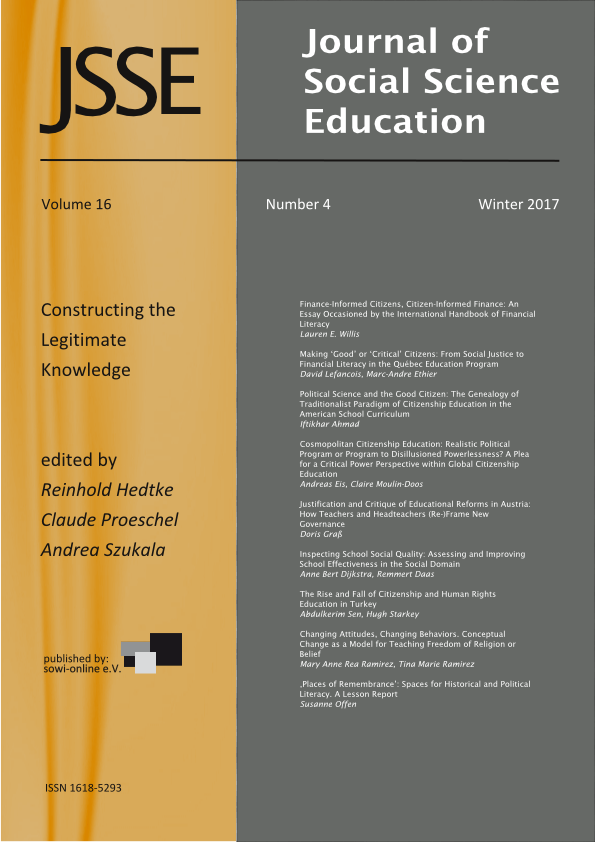 Copyright (c) 2017 JSSE - Journal of Social Science Education
This work is licensed under a Creative Commons Attribution-ShareAlike 4.0 International License.