Country Report: Civic and Citizenship Education in Italy: Thousands of Fragmented Activities Looking for a Systematization
Abstract
Purpose: In the present paper we describe how civic and citizenship education takes place in Italy, trying to identify strengths and weaknesses, with the aims both of understanding the situation and of identifying possible measures for improvement.
Methods: The methodology implies an analysis of the official guidelines by the Ministry in this field, a short view of the research publications of the last 30 years, the informal observation of the daily teaching at school from the personal experience of the authors in Italy.
Findings: First of all we study the concept of civic and citizenship education, and focus on the curriculum of civic and citizenship education (aims, teaching approaches, taught time, methods and means) in the school system, including the school culture and the experiences of participation inside school; we investigate the teacher training and role, the informal and non-formal influences in this educational field, and conclude dealing with the student assessment, and the evaluation of the outcomes. In the daily practice there are thousands of activities for civic and citizenship education, but a systematic design is lacking.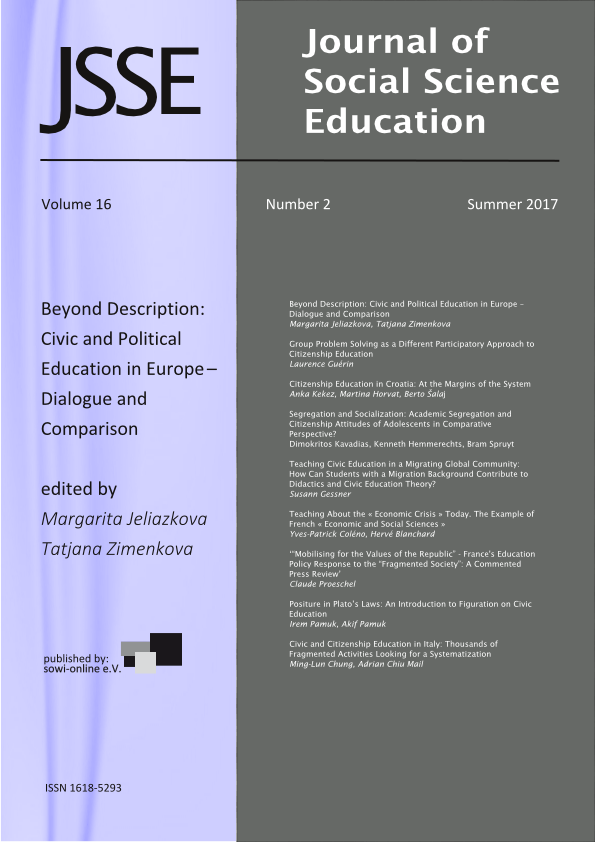 Downloads
How to Cite
Bombardelli, O., & Codato, M. (2017). Country Report: Civic and Citizenship Education in Italy: Thousands of Fragmented Activities Looking for a Systematization. JSSE - Journal of Social Science Education, 16(2), 74–86. https://doi.org/10.4119/jsse-826
License
Copyright (c) 2017 JSSE - Journal of Social Science Education
This work is licensed under a Creative Commons Attribution-ShareAlike 4.0 International License.