Positure in Plato's Laws: An Introduction to Figuration on Civic Education
Abstract
Purpose: The aim of the research was to determine the benefits of applying the new Figuration philosophy of dance, based in part on Plato, to civic education.
Design/methodology: A close phenomenological reading of Plato's The Laws, with a strategic focus on its account of the concept of posture.
Findings: Plato considers posture to be central to dance education, which in turn is central to civic education, as suggested by concrete analyses of dance based on posture.
Research limitations: Further studies on this subject are required in order to achieve a more nuanced and balanced account of the concepts of posture articulated by other philosophers and theorists.
Practical implications: More resources must be allocated to dance and dance education, in the interest of fostering civic education, and the political virtue that results therefrom.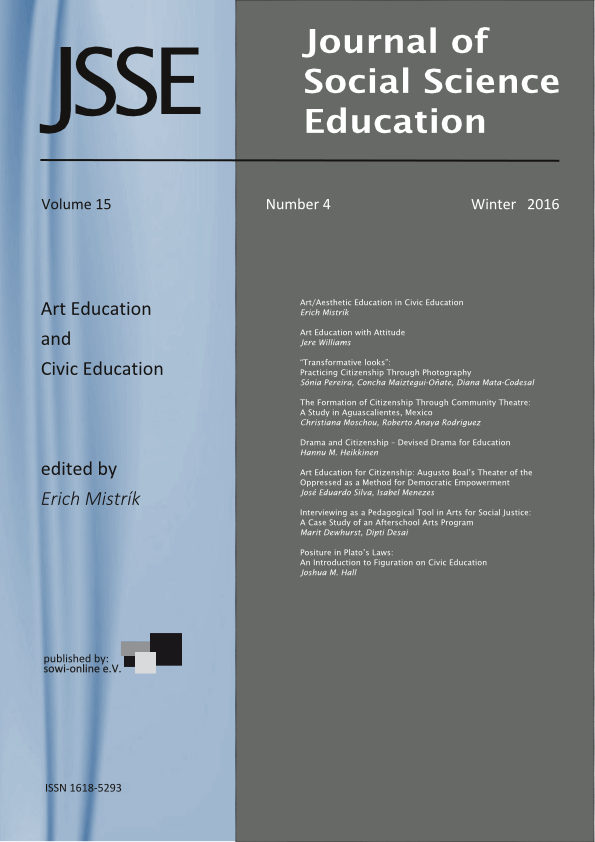 Downloads
License
Copyright (c) 2016 JSSE - Journal of Social Science Education
This work is licensed under a Creative Commons Attribution-ShareAlike 4.0 International License.