Defining the Key Competences and Skills for Young Low Achievers' in Lifelong Learning by the Voices of Students, Trainers and Teachers
Marta Pinto

University of Porto

João Caramelo

University of Porto

Susana Coimbra

University of Porto

Manuela Terrasêca

University of Porto

Gabriella Agrusti

LUMSA University
Abstract
Europe has stressed the importance of lifelong learning as a way for its citizens to enrol and to engage fully in day-to-day demands of work and citizenship life events. Support is more urgent for those who are at risk of social and educational exclusion. This paper presents an overview on the goals of the European project LIBE "Supporting Lifelong learning with Inquiry-Based Education", that aims at designing, developing and trying out an innovative e-learning management system devoted to develop key information processing skills for ICT with an inquiry-based approach to learning, focused on the young adult population (16-24) that have low levels of competences regarding literacy, numeracy and ICT skills. Additionally, it presents the results of a content analysis of focus groups sessions, carried out with Portuguese teachers, trainers and students, aiming to identify the key competences and skills most needed by young low achievers. The Portuguese results integrate the alignment of the proposal of the LIBE framework for the learning outcomes, instructional objectives and ICT key information processing competencies. Results highlight literacy skills and social competence as the most relevant for the target audience, adding ICT competences as very important in developing literacy skills and self-efficacy. Pedagogical support is considered a significant part of the students' successful learning, both in face-to-face or e-learning environments.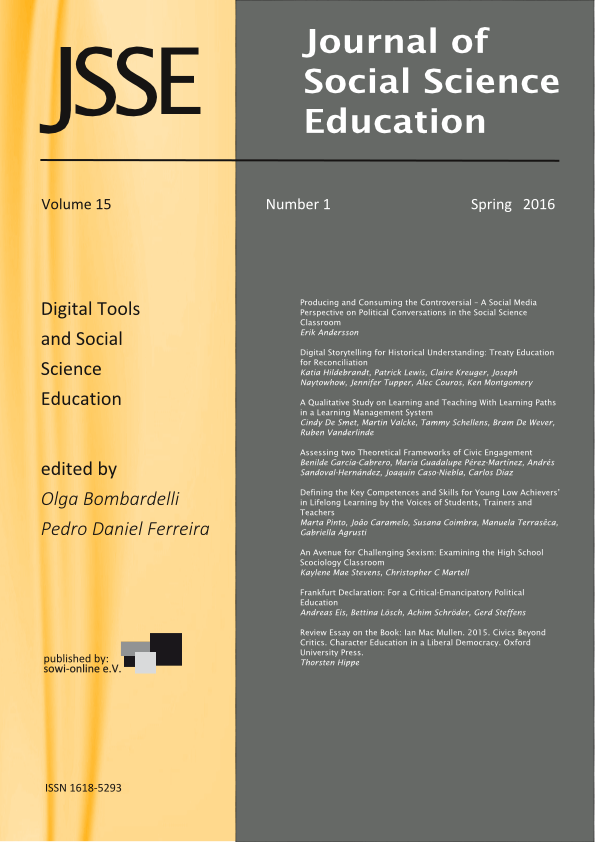 Copyright (c) 2016 JSSE - Journal of Social Science Education
This work is licensed under a Creative Commons Attribution-ShareAlike 4.0 International License.