Producing and Consuming the Controversial – A Social Media Perspective on Political Conversations in the Social Science Classroom
Erik Andersson

University of Skövde
Abstract
Teachers find it difficult to conduct political controversial conversations in the social science classroom and due to an increased use of social media in educational settings new challenges and possibilities are raised. The use of social media causes fundamental changes to the role of the learner who becomes a producer and consumer – a prosumer – of educational content. With a social media perspective and a didactical focus on learning in democracy and political action the article discusses didactical conditions and possibilities of political controversial conversations in social science education and derives a set of didactic strategies. When approaching the classroom as a diverse ideological public space, recognising the students as political agents and using a social media perspective it is possible to balance the function of education – socialisation, qualification and subjectification – and at the same time stimulate societal engagement and political action.
Los profesores tienen dificultades para llevar a cabo conversaciones políticas controvertidas en el aula de ciencias sociales y debido a un mayor uso de los medios sociales en los centros educativos nuevos retos y posibilidades se plantean. El uso de los medios sociales provoca cambios fundamentales en el papel del estudiante que se convierte en productor y consumidor - un prosumidor - de contenidos educativos. Con una perspectiva de los medios de comunicación social y un enfoque didáctico en el aprendizaje en la democracia y la acción política el artículo discute las condiciones didácticas y posibilidades de conversaciones polémicas políticas en la educación de las ciencias sociales y concluye un conjunto de estrategias didácticas. Al acercarse a la sala de clases como una diversa espacio público ideológica, el reconocimiento de los estudiantes como agentes políticos y el uso de una perspectiva de los medios de comunicación social, es posible equilibrar la función de la educación - la socialización, la cualificación y la subjetivación - y al mismo tiempo estimular el compromiso social y la acción política.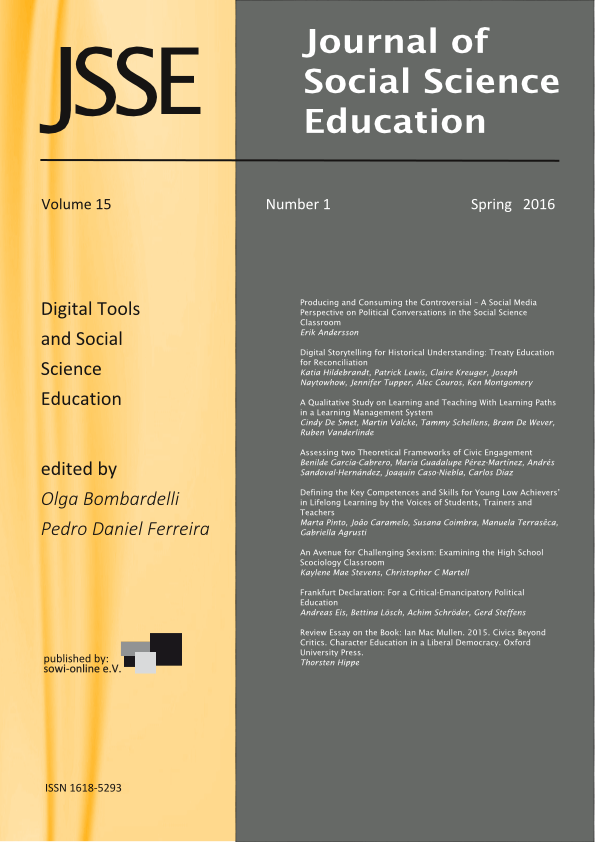 Copyright (c) 2016 JSSE - Journal of Social Science Education
This work is licensed under a Creative Commons Attribution-ShareAlike 4.0 International License.