Investigating Multiculturalism and Mono-Culturalism Through the Infrastructure of Integration in Rotterdam, the Netherlands
Abstract
This paper explores first-hand experiences of citizenship education specifically-designed for immigrants from the perspective of native Dutch settlement workers and volunteers in Rotterdam, the Netherlands. Based on eight months of ethnographic research and in-depth interviews with settlement workers, this article explores how these 'minor figures' influence and inform the 'Infrastructure of Integration' and reinterpret national Dutch cultural values and norms on a local level. Using past understandings of multiculturalism and the current project of assimilating all non-western Muslim immigrants into Dutch society, this article investigates how these minor figures reproduce exclusionary discourses of belonging to the imagined community of the Netherlands.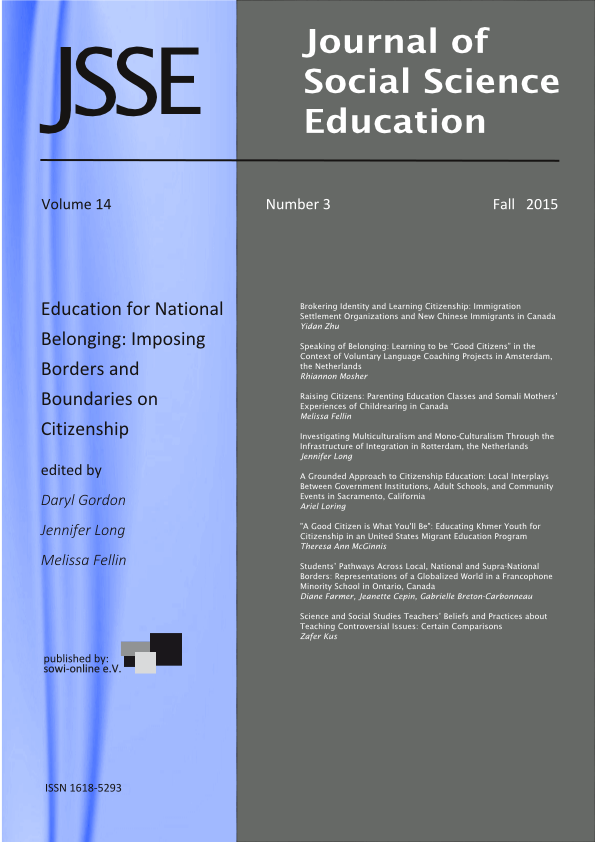 Downloads
Section
Special Topic Articles
License
Copyright (c) 2015 JSSE - Journal of Social Science Education
This work is licensed under a Creative Commons Attribution-ShareAlike 4.0 International License.