Social and Psycho-political Impacts in the Social Construction of Political Memory of the Brazilian Military Dictatorship
Abstract
This article refers to a research on the political memory of the military dictatorship in Brazil, held in three Brazilian cities (Belo Horizonte, Curitiba and São Paulo) in which we analyzed the social and psychopolitical impacts caused by the dictatorship as well as the redemocratization process in building the political memory of community and union leaders. The study revealed two important legacies that were found in the reports of interviewees: the first one refers to police repression, impunity, and authoritarianism still present in Brazilian society; the second legacy refers to the existence of a political memory built by social movements and communities that care about passing on, to the new generations, the events that occurred during the military dictatorship.

Research has clearly shown that there is no single memory but several "underground memories" (Pollak, 1989), built by the popular classes, which contradict the versions disseminated by the official memory and enhance the social movements capacity of action as a strategy of resistance and political struggle of the movements today. To the extent that this fight is assumed by other spheres of Brazilian society it may contribute to memory policies in the fight against forgetting.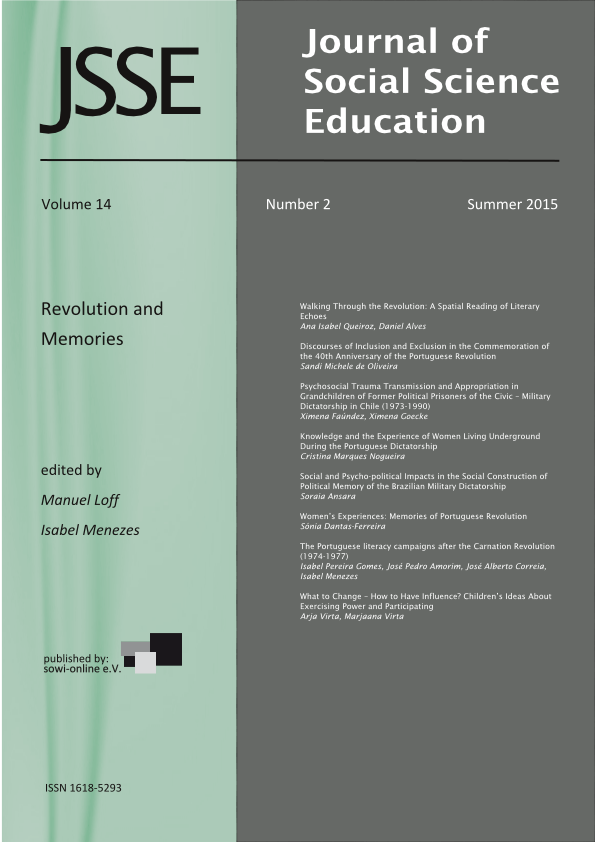 Downloads
How to Cite
Ansara, S. (2015). Social and Psycho-political Impacts in the Social Construction of Political Memory of the Brazilian Military Dictatorship. JSSE - Journal of Social Science Education, 14(2). https://doi.org/10.4119/jsse-745
License
Copyright (c) 2015 JSSE - Journal of Social Science Education
This work is licensed under a Creative Commons Attribution-ShareAlike 4.0 International License.