Education in Responsibility in Order to Secure Human Rights in Times of Crisis
Abstract
Education in and awareness about human rights is generally seen as one of the less contentious elements of citizenship education. However, it would seem that, for the concept of human rights to have a real impact in today's world, theoretical knowledge of human rights standards should be complemented by an understanding of the ethical concept of individual responsibility. This concept could, moreover, prove to be a valuable tool in conceiving creative answers to some of the consequences of the crisis Europe has been facing. This crisis has affected especially the protection and realisation of socio-economic rights, as many States were left with increasingly less budgetary space to meet increasingly urgent societal demands. Over the last few decades, and already prior to the current crisis, many have called for a greater stress on 'duties and responsibilities', as it was perceived that 'rights-talk' alone did not provide all the answers. From a legal perspective, as well as from the side of human rights advocacy groups, however, these appeals were often met with scepticism and hostility. In answer to the often justified criticism, it is essential to make a distinction between the 'legal', the 'moral' and the 'ethical' realms. While an unnuanced greater focus on moral duties is potentially dangerous, education based on the proposed notion of ethical 'responsibility' would seem, on the contrary, essential for the survival of human rights and, hence, of the democratic society.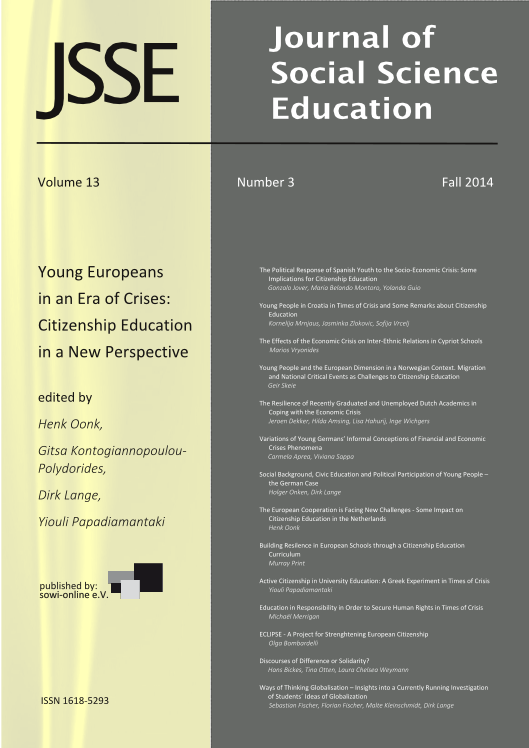 Section
Special Topic Articles
Copyright (c) 2014 JSSE - Journal of Social Science Education
This work is licensed under a Creative Commons Attribution-ShareAlike 4.0 International License.