Financial education as a social studies discipline: the equivocality of the critical aspirations found in Québec's curriculum and its educational materials
Abstract
Purpose: In 2017, the Government of Québec made a high school financial education course compulsory. Anchored in the social studies, it tackles themes like consumer rights, savings, and employment. This paper strives to understand the types of citizenship education they promote.
Design/methodology/approach: Our research is based on a content analysis of Québec's financial education curriculum and its textbooks.
Findings: This paper reveals that Ministry approved educational materials focus on issues of personal finance and information retrieval tasks at the expense of a critical approach and tasks of a higher intellectual value. Québec's financial education materials therefore seems to foster personally responsible citizens.
Research limitations/implications: To understand the use teachers and students make of financial education materials, we must now conduct individual and group interviews with teachers and students, but mostly authentic classroom observations.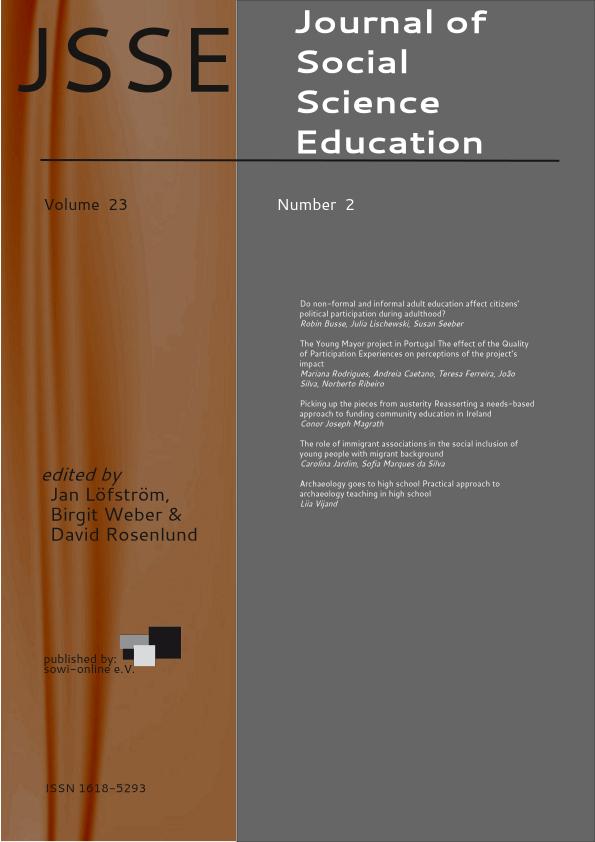 Downloads
How to Cite
Lefrançois, D., Éthier, M.-A., Cambron-Prémont, A., & Larocque, S. (2023). Financial education as a social studies discipline: the equivocality of the critical aspirations found in Québec's curriculum and its educational materials . JSSE - Journal of Social Science Education, 22(2). https://doi.org/10.11576/jsse-6244
License
Copyright (c) 2023 JSSE - Journal of Social Science Education
This work is licensed under a Creative Commons Attribution-ShareAlike 4.0 International License.