The place and role of school sociology in Brazil and the contemporary context of the rise of the extreme right
Keywords:
Brazil, far right, currícula, pedagogical practices, Sociology teaching
Abstract
Purpose: This article presents the place and the role of Sociology teaching in the current Brazilian context, marked by the rise of extreme right ideologies and practices, more specifically by its ultraliberal economic bias and moral conservatism. 
Design/methodology/approach: Organized in three parts, it outlines, respectively, the macro political and curricular scenario, and some of its unfolding in school practices. The main effort is to reflect on the ways in which school Sociology has been - ambiguously - understood and instrumentalized in the Brazilian context. The reflections are based, besides the literature review, on the analysis of the conjuncture and political-institutional directions, on curriculum documents and on reports of teaching experiences collected during the year 2022. 
Findings: We verified that the extreme right advance in the public space is due to the articulation of two factors: 1) scenario of political and economic crisis; 2) structural aspects that guarantee, in the moral field, the predominance of conservatism and, in the economic field, the prevalence of ultraliberalism. With regard to education, the extreme right has had an impact in the definition of legislation that regulates the education system and on boosting surveillance and persecution in relation to teachers who distance themselves from their political ideology.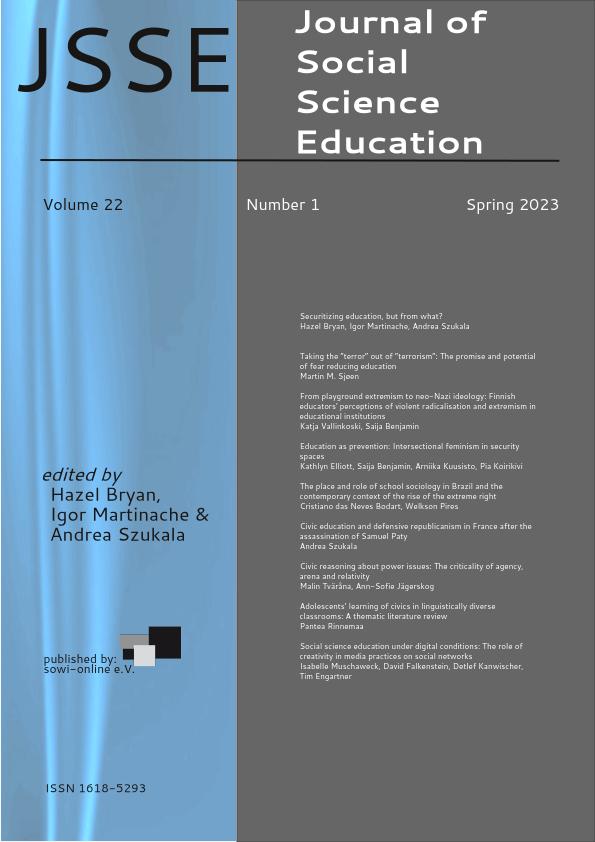 Downloads
Section
Special Topic Articles
License
Copyright (c) 1970 JSSE - Journal of Social Science Education
This work is licensed under a Creative Commons Attribution-ShareAlike 4.0 International License.