Hong Kong: Understanding liberal studies in Hong Kong: Vehicle for civic education and its controversies
Keywords:
Hong Kong, civic education, curriculum reform, critical thinking, youth activism
Abstract
Highlights:
Civic education in Hong Kong has never had the status of an independent subject in the educational system. It has always been fragmented as a cross-curriculum theme.
The historical developments of civic education curriculum can be summarized as follows: depoliticization for the most time under the British colonial government; politicization from the mid-1980s to 1997; and re-depoliticization after the sovereignty transfer in 1997.
Liberal Studies, containing elements of citizenship and political knowledge, was reintroduced in 2009 as a core subject and had been considered a vehicle subject for civic education.
The subject was compulsory in all senior secondary schools and in the university entrance examination.
Against the backdrop of mounting criticisms and allegations that Liberal Studies had caused youth activism in Hong Kong, the government completely reconstructed the subject in 2021.
Purpose: This country report aims to give an overview of civic education in Hong Kong as well as Liberal Studies, and to discern the reasons behind the reforms of the subject.
Approach: The analysis is based on government documents related to the subject's curriculum and assessment, press releases and secondary sources. Regarding the controversies, it draws on numerous studies conducted by educators and scholars in Hong Kong.
Findings: The main finding is that there is no empirical evidence supporting the causal relationship between the subject and youth activism. It seems that the drastic reforms to Liberal Studies curriculum and assessment aim to further cultivate an uncritical national identity in the post-colonial Hong Kong.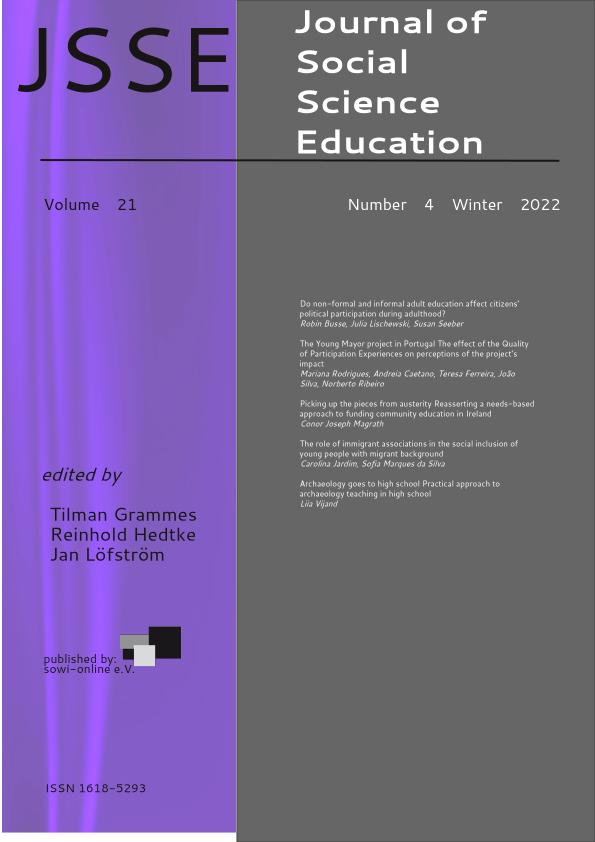 Downloads
License
Copyright (c) 1970 JSSE - Journal of Social Science Education
This work is licensed under a Creative Commons Attribution-ShareAlike 4.0 International License.