The place of civic education in the Greek education system: Problems, inconsistencies, contradictions and stakes
Keywords:
Greece, social studies, Didactic, Assessment, Teacher
Abstract
Purpose: In this Report we analyse the place of civic education in the Greek Education system. The integration of civic education into education since 1982 represents a major step forward in the upgrading of general education. However the curricula are mainly characterised by teacher-centred approaches, with a strong emphasis on the achievement of cognitive objectives and little emphasis on the learning process and teaching strategy.
Design/methodology/approach: This report is based on an analysis of the place of social studies in the Greek education system. We analysed the aims of the curricula, the role of teachers, the didactic approaches, the educational practices and the assessment.
Findings: From our analysis we have detected a gap between the public rhetoric about the role of social sciences and their implementation in the Greek education. Although it seems that the general principles of curricula are permeated by a more democratic and flexible note which encourages critical thinking and participation, they are not implemented in practice and by and large are annulled due to the great emphasis the Greek education system places on knowledge acquisition and exams. The elimination of Social studies in some classes points to a school which is cut off from the current socio-economic reality, thus condemning students to a passive attitude towards social and educational affairs.
Research limitations/implications This article reports on the research conducted on civic education since the 1990's and onwards. The study of all these researches leads us to the conclusion that neither the curricula nor the textbooks of social studies courses have been extensively analysed, and this could be a future field of research. Another area of research is the role of school charters, the didactic approaches and the assessment in this course in the Greek education context.
Practical implications Upheavals in the history of the Greek governmental system and democracy left their indelible mark on citizens' education; changes in the title of the course, the time allotted to its teaching and the content of school knowledge evidence its dependence on the respective socio-political and ideological regime as well as its indoctrinational character. The turning points in civic education which can be pinpointed between 1982 and 2003 were linked with the educational policy of socialist governments and the gradual paradigm shift in social studies.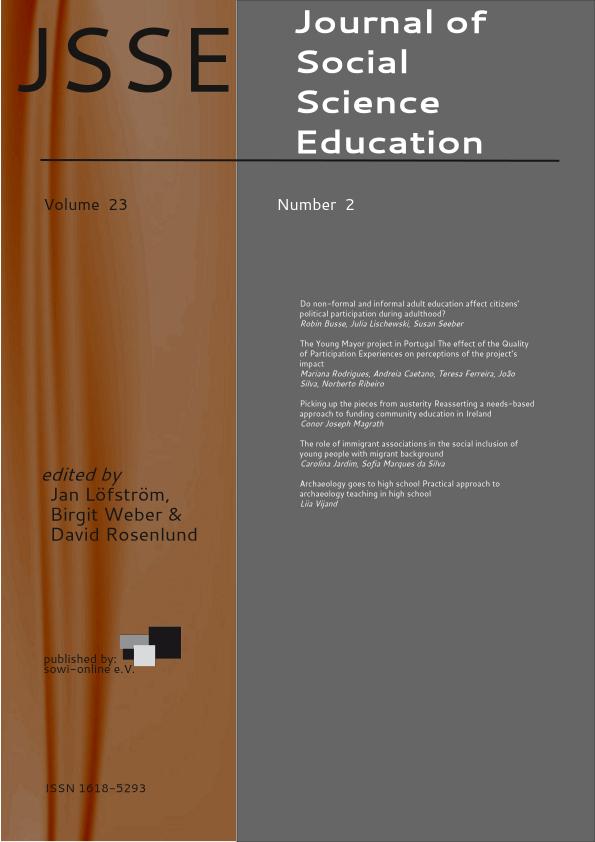 Downloads
How to Cite
Karakatsani, D., & Fragkoulidou, P. (2023). The place of civic education in the Greek education system: Problems, inconsistencies, contradictions and stakes. JSSE - Journal of Social Science Education, 22(2). https://doi.org/10.11576/jsse-5388
License
Copyright (c) 2023 JSSE - Journal of Social Science Education
This work is licensed under a Creative Commons Attribution-ShareAlike 4.0 International License.