Education as prevention: Intersectional feminism in security spaces
Keywords:
 Prevention of violent extremism,  Feminist security studies,  education,  intersectional feminism,  post-colonial theory
Abstract
Purpose: This article argues that the inclusion of education in prevention creates space to address long standing concerns about the racialized and gendered problems created by traditional security approaches
Design/methodology/approach: The article uses intersectional feminism as it's theoretical lens/basis.
Findings: Education can be a space that allows for more women, non-binary persons, and people of color to engage as policy actors in the prevention of violent extremism. While policy documents emphasize the role education plays, and alludes to the presence of women, non-binary persons, and people of color in education, the research and application often overlooks these perspectives.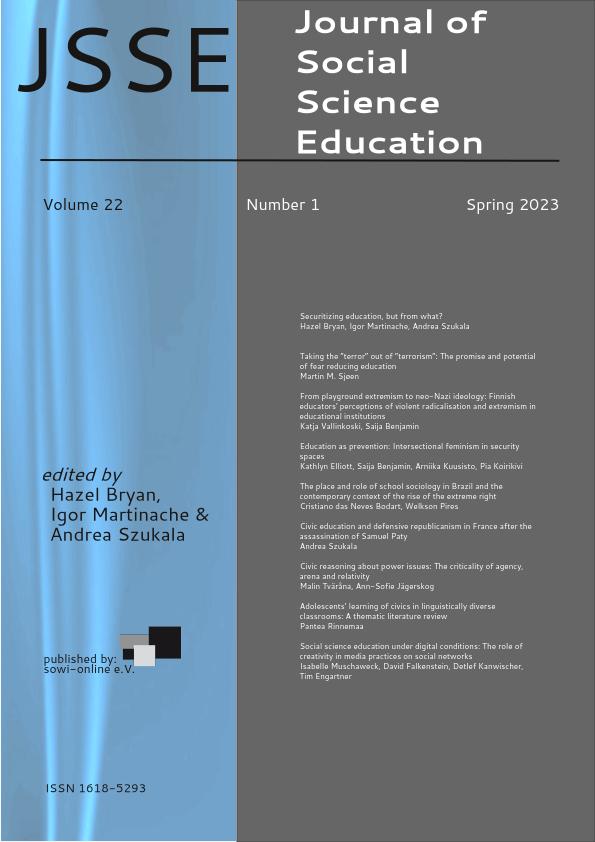 Downloads
Section
Special Topic Articles
License
Copyright (c) 1970 JSSE - Journal of Social Science Education
This work is licensed under a Creative Commons Attribution-ShareAlike 4.0 International License.