Teenagers' participation in the public life in Italy: Insights for education from a web survey
Date of publication: 07/21/2023
Keywords:
Civic engagement, social involvement, activism, manifest participation, peer relations
Abstract
Purpose: The essay wonders about forms and ways of participation in the public sphere of adolescents. The investigated practices include individual and collective participation in different contexts (in the community, at school, among peers), in physical or web presence.
Design/ methodology/ approach: A web survey was carried out involving about 1,300 adolescents (14-17 years old) in five Italian urban contexts, different in size and geographical location.
Findings: Cognitive and actionable findings regarding adolescents' participation.
Research limitations/ implications: Self-completed questionnaire, involvement of adolescents not attending project partner schools, not statistically representative samples but good enough for our particular purpose.
Practical implications: Empirical evidence a) provide deep knowledge of adolescents, b) identify constructive approaches to promote participatory skills and full and conscious involvement in community life, c) are useful for local project partners and other operators involved in adolescents' education promoting community-based interventions for well-being and preventing the disadvantaged situation in young people, and d) will represent the basis of local research training workshops.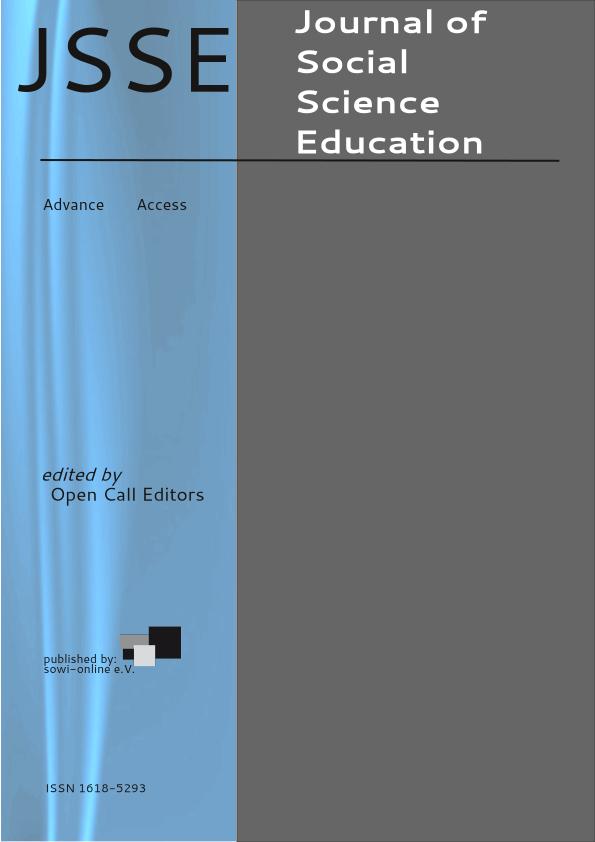 Downloads
How to Cite
Chimenti, S., Licursi, S., & Pascuzzi, E. (2023). Teenagers' participation in the public life in Italy: Insights for education from a web survey: Date of publication: 07/21/2023. JSSE - Journal of Social Science Education, 22. https://doi.org/10.11576/jsse-5366
License
Copyright (c) 2023 JSSE - Journal of Social Science Education
This work is licensed under a Creative Commons Attribution-ShareAlike 4.0 International License.