Taking the "terror" out of "terrorism": The promise and potential of fear reducing education
Keywords:
Trust, terrorism, fear reduction, democratic resilience
Abstract
Purpose: The purpose of this study is to explore how education can help students develop democratic resilience as a bulwark against terror-induced fear, securitization, and possibly even extremism itself.
Approach: This article presents findings from a qualitative study exploring security governance in Norwegian secondary schools. The empirical corpus draws on 16 semi-structured interviews with educators to explore their perspectives on security governance in schools.
Findings: The securitization of education risks normalizing fear culture in schools. Trust can likely be used to prevent or reduce the emergence of such fear. This study explores educational narratives by analyzing how a combination of cognitive trust and emotional trust may help students to build democratic resilience against terror-induced fear. In this context, helping students develop more sophisticated understandings of the social world and ensuring trustful relationships is a promising peacebuilding and potentially de-securitizing approach to explore in education.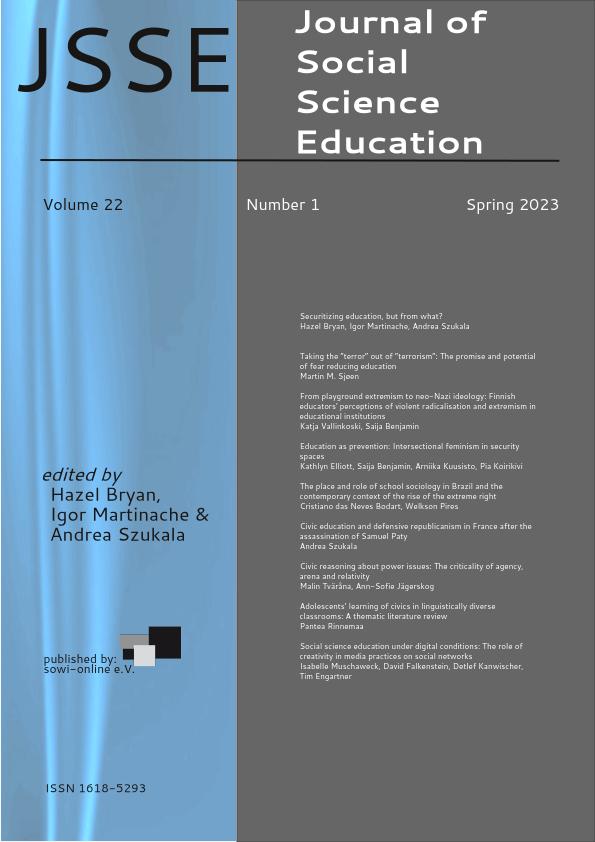 Downloads
Section
Special Topic Articles
License
Copyright (c) 1970 JSSE - Journal of Social Science Education
This work is licensed under a Creative Commons Attribution-ShareAlike 4.0 International License.