Samhällskunskap (social science education) in Sweden
A country report
Keywords:
Social science education, Sweden, curriculum, teacher practice, research practice
Abstract
Keywords: Social science education, Sweden, curriculum, teacher practice, research practice
Highlights:
Social science education is the core subject assigned responsibility for citizenship education and holds a strong position in Swedish schools (policy and teaching).
Two reforms of curricula and syllabi through years 1–9 and 10–12 are upcoming.
There is a growing community of researchers investigating the purpose, design and conditions of social science education.
Research is mainly small-scale and qualitative and there is a lack of large-scale and/or quantitative studies.
Purpose: This report provides an overview of social science education in primary and secondary education in Sweden with the purpose of introducing the international research community to policy-related issues concerning citizenship education, educational institutions and the scholarly state of the art. The principal topics are: a context of Sweden and its educational setting, the current policy documents and upcoming reforms, the state of teaching and teacher education, and the state of the art of Swedish social science education theory and research.
Findings: Social science education holds a strong position as the main agent of citizenship education in Swedish schools and is a mandatory subject in every school year. The current and upcoming syllabi both emphasise disciplinary knowledge as well as citizenship education. Sweden has a growing community of researchers, but this community is somewhat fragmented because researchers originate from different disciplines.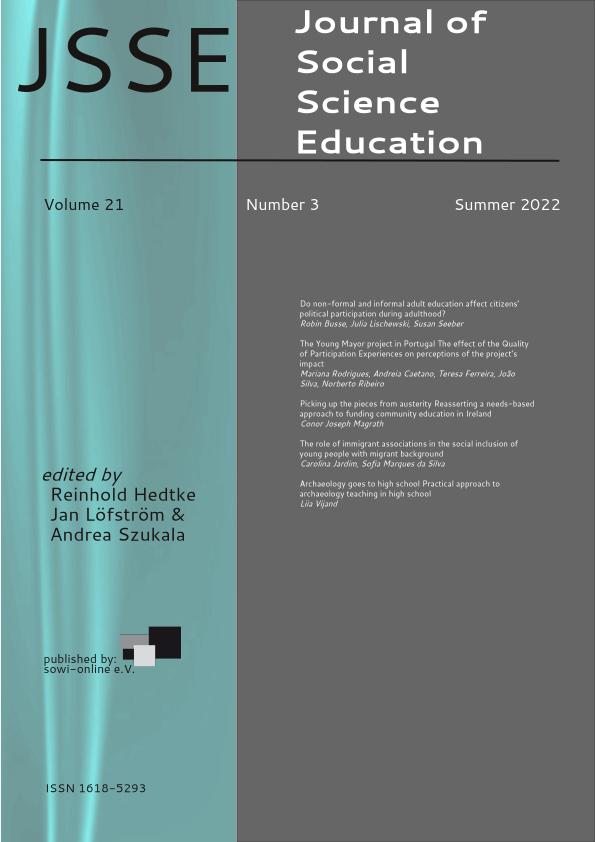 Downloads
License
Copyright (c) 1970 JSSE - Journal of Social Science Education
This work is licensed under a Creative Commons Attribution-ShareAlike 4.0 International License.