Civic reasoning about power issues: The criticality of agency, arena and relativity
Keywords:
Social science, penomenography, civic reasoning, critical thinking, power analysis
Abstract
Purpose: The study examines students' conceptions of power and important aspects of teaching for developing the ability to analyse power relations in social science.
Methodology: Phenomenography is used in the analysis of 155 student essays, to identify different ways of analysing societal power issues.
Findings: When conducting a qualified analysis of a societal power issue, it is crucial that students discern that power is tied to an agent, that power is exercised through agency in specific contextual power arenas, and that they understand how power is relative to the power of other agents in the same arena.
Research limitations: The study focuses on Swedish upper secondary students. Comparisons with other groups of learners are welcomed.
Practical implications: The critical aspects identified should be used as a basis for teaching designs. Findings imply that the meaning of power as a concept should be highlighted in social science teacher education.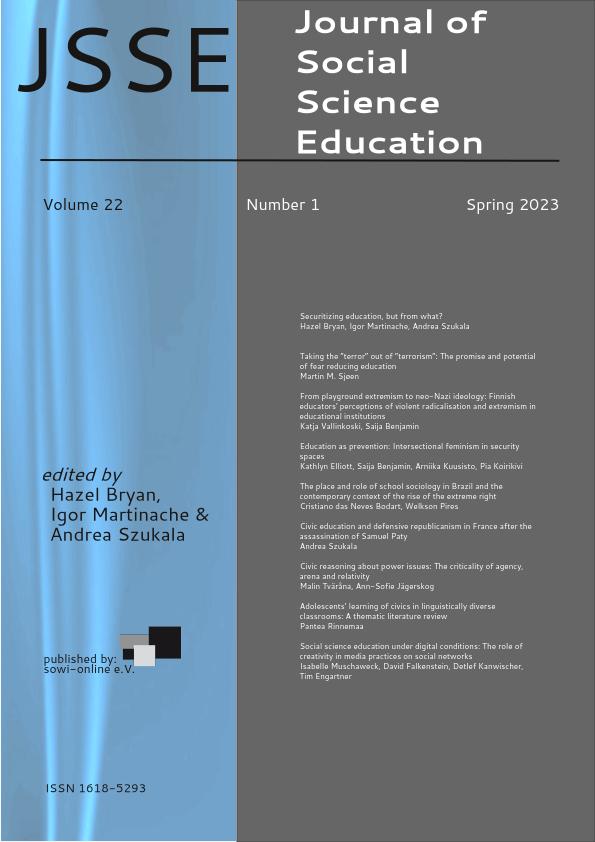 Downloads
License
Copyright (c) 1970 JSSE - Journal of Social Science Education
This work is licensed under a Creative Commons Attribution-ShareAlike 4.0 International License.