The affordance of visual tools
The potential of visual representations of pricing facilitating an epistemic practice in economics teaching
Keywords:
visual representation, visual tool, pricing, economics education, teaching-learning practice, epistemic practice
Abstract
Purpose: This paper results from an intervention study focusing on the relationship between visual representation used in teaching about pricing in economics and teaching-learning practices established in the classroom, with a focus on the affordance offered through the representations used. 
Method: Lessons were conducted with four upper secondary classes: two had lessons based on graphs and two on a causal loop diagram. Transcriptions of the lesson, including small group discussions, were analysed using a practice theory perspective, identifying actions and goals driving them. Results arising from the two representations were compared. 
Findings: Different actions were mediated through the different representations. A causal loop diagram afforded more qualified actions, and more epistemic teaching-learning practices, than graphs. 
Research limitations/implications: This study should be replicated with different subject contents /visual representations. 
Practical implications: Choice of visual tools used in teaching will affect the practice established and thus the knowledge made available for students to experience.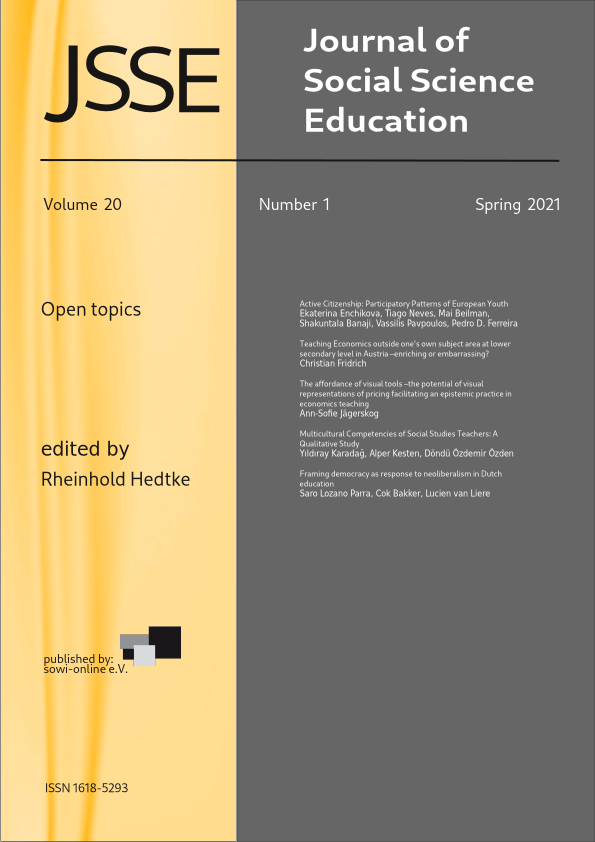 Downloads
License
Copyright (c) 2021 JSSE - Journal of Social Science Education
This work is licensed under a Creative Commons Attribution-ShareAlike 4.0 International License.