Active Citizenship: Participatory Patterns of European Youth
Keywords:
active citizenship, civic participation, political participation, participatory patterns
Abstract
 Purpose: Treating Active Citizenship as a sum of behavioral indicators requires certain prerequisites that can be difficult to meet in practice (e.g. structural validity and measurement invariance). We explore a different approach, in which we treat Active Citizenship as a categorical, rather than a linear, construct. 
Design: Based on longitudinal data from eight European countries, we discovered the patterns' structure based on the first-year data and then replicated the analysis on the second-year sample to confirm it. Next, we explored the change between the years and its' trajectories. We compared countries profiles and their change. Finally, we used multinomial logistic regression to explore the most common trajectories. 
Findings: We describe six patterns: fighter, activist, volunteer, backer, online and indifferent. The pattern structure is replicable and 41.8% of respondents preserve their pattern. For those respondents who changed their pattern, we identified political interest, religiosity, gender and age as the main factors behind this change. 
Research implications: The study contributes to the understanding of youth Active Citizenship and the factors that support and promote it.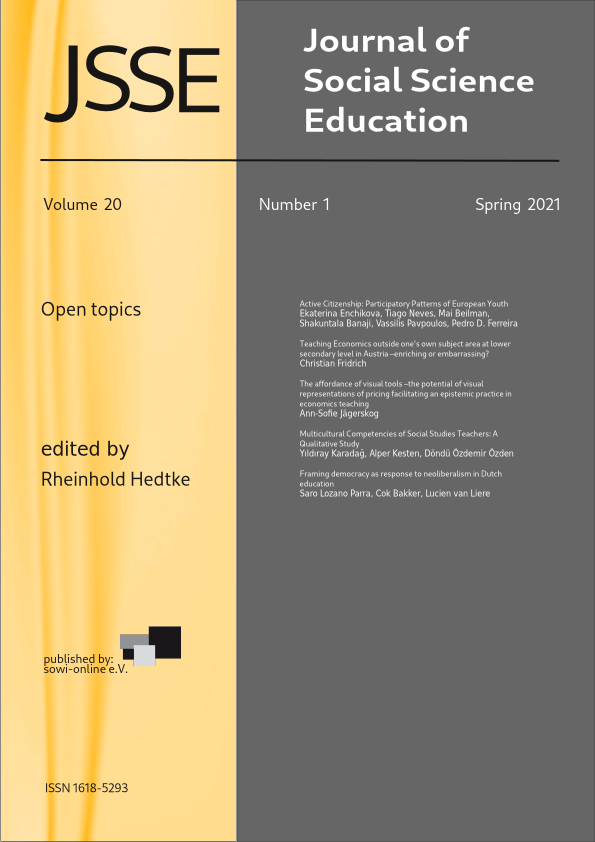 Downloads
License
Copyright (c) 2021 JSSE - Journal of Social Science Education
This work is licensed under a Creative Commons Attribution-ShareAlike 4.0 International License.