Teaching Financial Literacy: Competence, Context and Strategies Among Swedish Teachers
Keywords:
Financial literacy, PCK, Experienced teachers, Novice teachers, Social Science
Abstract
Purpose: The aim of this article is to compare if and how experienced and novice teachers differ from each other regarding teaching and expressed aims regarding their financial literacy education.
Method: Thematic analysis together with the PCK framework were used to analyse 21 teacher interviews.
Findings: Both aims and teaching differ between experienced and novice teachers even though none of the interviewed teachers has any formal content knowledge regarding financial literacy. This seems related to experienced teachers using their everyday financial knowledge when teaching where novice teachers use their pedagogical skills and refer to syllabus.
Practical implications: Both pre-service and in-service teachers should receive a financial literacy education. Teachers' experience from financial literacy instruction should be considered when designing teacher training in financial literacy.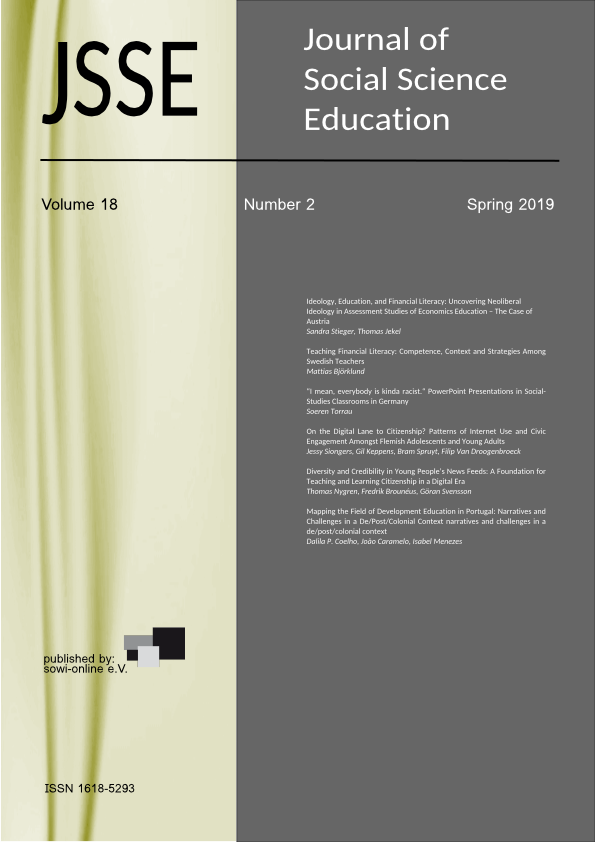 Downloads
License
Copyright (c) 2019 JSSE - Journal of Social Science Education
This work is licensed under a Creative Commons Attribution-ShareAlike 4.0 International License.