Archaeology goes to high school
Practical approach to archaeology teaching in high school
Abstract
Purpose: The study investigated how various school subjects can be integrated into archaeology teaching and how this could lead students towards empathy and a more sustainable worldview.
Design/methodology/approach: To meet the purpose of this multiple-case study, optional archaeology course development (2011-2019) and students' questionnaires and feedback group A (2018) and group B (2019) and various empirical material, was analysed in cross-case methods.
Findings: Archaeology interdisciplinarity and analysing long-term human behaviour supports an understanding of human nature, emphasizes empathy and tolerance, and encourages social cohesion.
Research limitations/implications: The study was carried out in Estonia as a multiple-case study and further research, especially in the empathy part, is needed for further conclusions.
Practical implications: Archaeology is interdisciplinary and therefore as a school subject it links together various and sometimes abstract subjects. It gives an understanding of long-term human behaviour, which allows developing students' empathy and tolerance.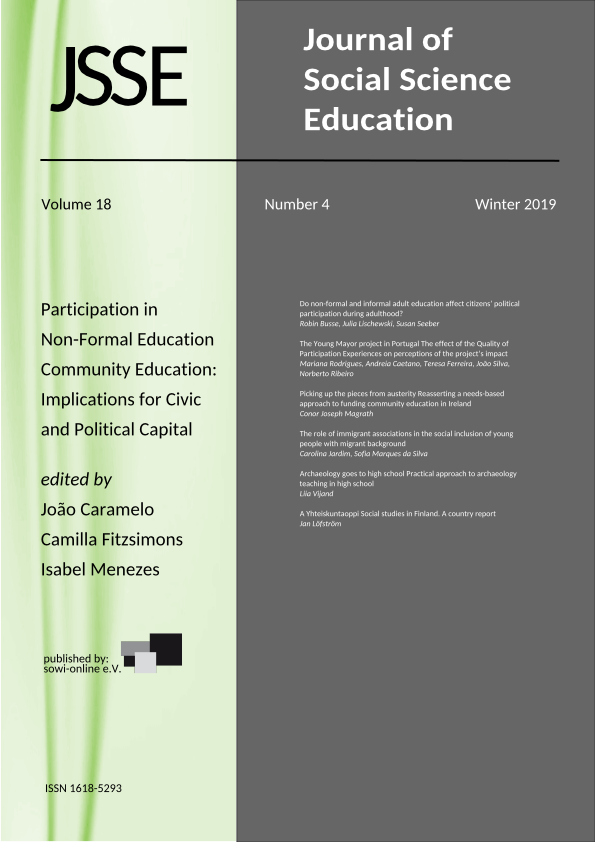 Downloads
How to Cite
Vijand, L. (2019). Archaeology goes to high school : Practical approach to archaeology teaching in high school. JSSE - Journal of Social Science Education, 18(4), 102–122. https://doi.org/10.4119/jsse-1101
License
Copyright (c) 2019 JSSE - Journal of Social Science Education
This work is licensed under a Creative Commons Attribution-ShareAlike 4.0 International License.